South Valley Chamber Golf TOurnaments
The South Valley Chamber holds several golf tournaments at local courses each year. We host events at River Oaks in Sandy, South Mountain in Draper, and Glenmoor in South Jordan. We think it's important to get out and have fun! We have sponsors located at each hole as well, so there is still opportunity for extra networking and opportunity to gain new business tools. These tournaments are one of many of the benefits of being a member of the chamber. Become a chamber member today to participate in our next tournament!
South Mountain Golf Course - Draper
Located on the foothills of the Wasatch Mountain range, 15 minutes from Salt Lake City, South Mountain features a David Graham/Gary Panks designed 18 hole championship course, a state of the art driving range, and putting greens.
South Mountain features an incredible blend of mountain and valley views, wildlife and scenery. A mountain links style course that has large undulating greens and dramatic elevation changes, South Mountain is a test for amateurs and professionals alike. With five tee boxes to choose from the golf course is an enjoyable experience for players of all skill levels.
Since opening in 1998, South Mountain Golf Club has earned a reputation as one of the finest facilities in the state of Utah. Golf Digest Magazine has consistently named South Mountain as one of the "Top Places to Play in America" as well as ranking it as high as #3 in Utah. Other publications such as Utah Business Magazine praise South Mountain as "One of the best places to hold a corporate or group outing".
Host to the 1999 Utah Open, South Mountain has gone on to host numerous amateur, charity, and fundraising events, and specializes in group outings of all kinds. Once your round is over the fun is just beginning...
The award winning Golf Shop carries all of your golf merchandise needs. The staff at South Mountain look forward to seeing you in the golf shop.
Glenmoor Golf Club - South Jordan
Glenmoor Golf Club offers a fantastic course that will be fun for all skill levels. We work hard to have the best kept fair-ways and greens. Enjoy fantastic views of the Wasatch Mountains have fun hitting from elevated tees on multiple par-3's. We know we'll become a favorite you'll want to play over and over.
We have made Glenmoor Golf Club more than just a golf course and we're continually adding to make it a destination. From our indoor golf and events facility to our outdoor dining area and fire pit. We can host events and parties that will be fun for everyone, even the non-golfers. Come check out what we have done!
River Oaks Golf Course - Sandy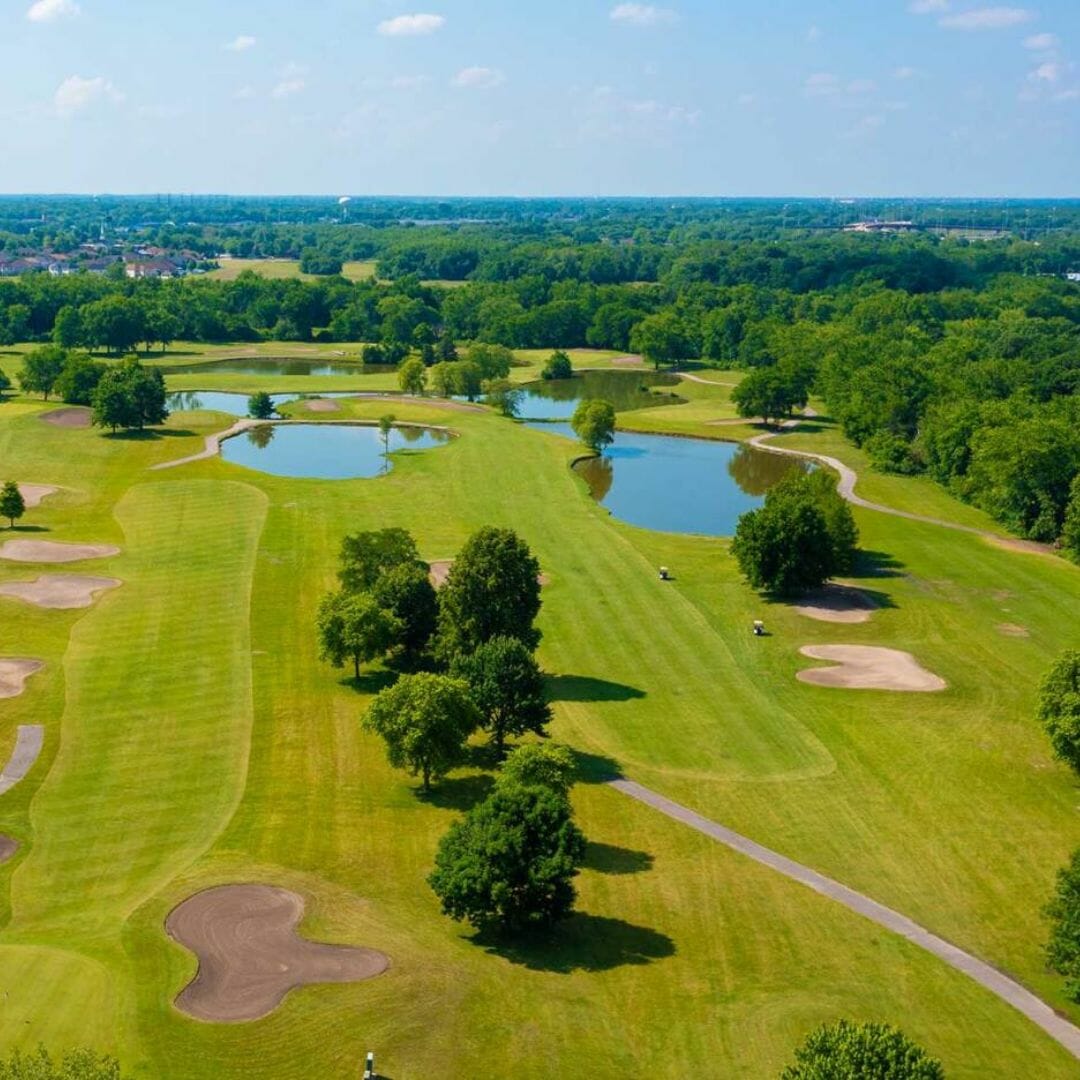 The Clubhouse opened in May 2003 and provides stunning panoramic views of the Jordan River nature area and has a large, beautiful banquet room that is anchored by a picturesque fireplace. This room, situated next to the River Oaks Café, can host anything from business meetings to banquets to weddings. Seating is available inside the rugged elegance of the dining room or outside on the patio overlooking the green space along the Jordan River.
The Clubhouse features a defining architectural entrance, which compliments the intriguing views of the course. As you enter the golf course property, you will find elegant landscaping with a stone monument welcoming you to the golf course. As part of the building design, the principle of Crime Prevention Through Environmental Design (CPTED) was used for crime prevention.
Also, located in the Clubhouse is River Oaks Pro Shop. The Pro Shop is a great place for your golfing needs, and you will find high-quality equipment and clothing for players of all levels. The Pro Shop is approximately 600 square feet with counter displays, storage areas, and open floor space for retail sales.
The Pro Shop has large observation windows providing a clear view of tee areas and holes number 1 and 10. Also, there are two administrative offices with a separate office supply/copier room.
Their luxurious clubhouse has an indoor banquet facility that comfortably seats 150 guests, and is ideal for luncheons, parties, weddings, and receptions. The entire room is secluded and enclosed with windows to offer panoramic views of the Jordan River natural areas.